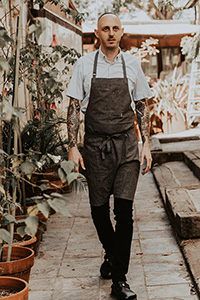 Joshua Luce started his culinary career at the French Culinary Institute in NYC learning the building blocks of cuisine from legendary chefs such as the iconic Jacques Pepin. After several years working through intense kitchens run by the likes of Craig Koketsu and Jean-Georges Vongerichten, he took a formative position as chef de partie for Terrance Brennan at his famed Picholine restaurant (**). It was here that he began to learn what it takes to work in a Michelin level kitchen operation. Next, a rare opportunity came to join the kitchen brigade at the Alain Ducasse outpost in the St. Regis Hotel and he had the great privilege to work alongside the passionate Didier Elena who continues to be a source of mentorship to this day. Joshua returned to his native California in 2012 to run the fine dining restaurant at the Peninsula Beverly Hills and later held a position as the executive sous chef at the Ace Hotel DTLA. After over a decade in the top echelon of the industry, Joshua jumped at the chance to open restaurant Neighbor in Venice Beach as the executive chef. Throughout this ongoing process, Joshua's mission statement has remained consistent: "I've always stayed focused on delivering the best possible culinary experience through a combination of well-studied technique and outstanding quality product."
The central coast of California is an American Viticultural Area that spans from Santa Barbara County in the south to Monterey County in the north, influenced greatly by the majestic Pacific Ocean. Hidden away inside this extraordinary region contains what could be described as the "Original California Cuisine". Pulling products directly from the amazing local agriculture and perfecting a cooking style directly over coast live oak are the two major tenets of this tradition. Accentuated by other staples that the climate provides, including incredible boutique wines and extra virgin olive oil, a pure expression of craft and flavor tells the story of the bountiful region.
---

MONICA LITTLE
Seasonal Creations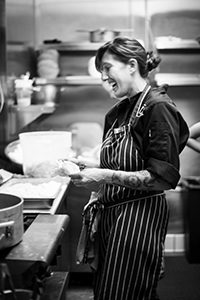 I am a Southern California native who grew up in a house where great food was an everyday occurrence. Both of my parents and my grandparents are lovers of all great food and wine; and both were abundant in most meals. My passion for cooking the food I had always enjoyed began with baking when I was about 20 years old. I started baking every day and would deliver the goods to the law office that I was working at much to everyone's delight. I had an insatiable desire to combine flavors and try this and make that way next time. One day a friend asked me, "Why don't you go to Culinary school?"

In 2003 I graduated from the Le Cordon Bleu program at the CSCA in Pasadena with my AOS in Culinary Arts. During my schooling, my passion seemed to shift more towards the savory side of the kitchen and I excelled, gaining myself a tryout for a position in Chef Walter Manzke's newest venture in Carmel, California. Working with Walter was the greatest opportunity I saw for myself and I soaked up what he taught and showed me like a sponge. He is a culinary genius and I'm so lucky to have worked next to him on the hot line all those nights.

I have had many culinary adventures since then, some working, some pleasure. My travel to Central America, Southeast Asia, and throughout the United States has really opened my eyes even more to the beauty of food in every corner. I appreciate a meal cooked on an overturned metal trash can as much as I do a luxurious range top. Food really is my life. My goal is to bring local, organic, and seasonal to the table whenever possible.
---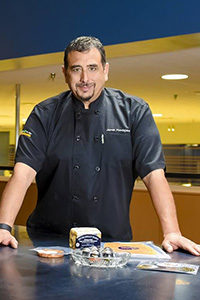 A San Diego native, Chef James feels like his career path has been leading to La Valencia and its varied culinary opportunities. His first job after graduating from the California Culinary Academy was at Aqua in San Francisco where he trained under renowned chef restaurateurs George Morrone and Michael Mina, and was promoted to sous chef within just two years.

He then worked with Jeffrey Strauss at Pampelmousse in Solana Beach, which became one of San Diego's most popular dining destinations. His first Executive Chef position was in La Jolla at Japengo, where he spent three years and became known for his delicate and colorful Asian fusion cuisine. After winning two consecutive annual awards for Best Sushi from the California Restaurant Association, Chef James decided to widen his horizons. Over the next four years his experience included: heading a casino steakhouse in Valley View, launching Jade Restaurant in downtown San Diego, and introducing a sustainable, organic, farm-to-table menu at La Papagayo in Leucadia. He then grabbed an opportunity he couldn't resist – working with Michael Mina again as part of the reopening team of his Michelin Star Restaurant in San Francisco. Chef James relished the chance to prepare seasonal menus for such a food savvy clientele.

At The Trident in Sausalito – originally founded by the Kingston Trio in the 60's, his work focused on introducing a new seafood driven menu to this iconic Bay Area food & music destination. His menu featured local produce, sustainable seafood and artisan products and he remained deeply involved in the community through working closely with local farmers and vintners, through local events, festivals and of course, social media. "My mantra has always been that the art of successful cooking doesn't rely just on know-how." Montejano explains. "It comes from the heart. A good menu should challenge the palate and it needs enthusiasm and a deep love of food to bring it to life. "The words of Alice Waters really epitomize my approach to cooking 'Treasure the farmer. Nurture the soil. Plant wherever you are. Cultivate your palate. Eat whole foods. Share the harvest.'"
He then took over as Executive Chef of the iconic La Valencia hotel, making the hotel relevant for today's guest while still honoring the past and helping to take the hotel's eateries to the next level.
His next chapter just began at another iconic property – The Seaside Market in Cardiff!
---

CLARK STAUB
Full Of Life Flatbread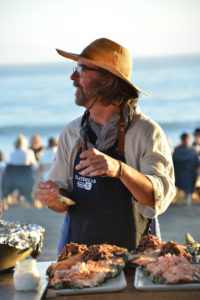 Former music exec Clark Staub helped to transform the Los Alamos restaurant scene by opening Full of Life Flatbread in 2004. His beautiful clay and stone oven still feasts on red and white oak and a steady diet of local, organic, and sustainable ingredients. Staub calls pizza flatbreads since he's not Italian, but these pies rate with California's best, including dynamic dough that experiences a 36-hour rise.
This enriching farm-to-table experience is to be prepared in a wood-fired stone oven by Chef Staub, owner of the locally-loved Full of Life Flatbread. Chef Staub is celebrated for sourcing his ingredients from small farms, ranches and independent producers within a 400-mile radius.
---

2FTAM FARMERS
CYCLOPS FARMS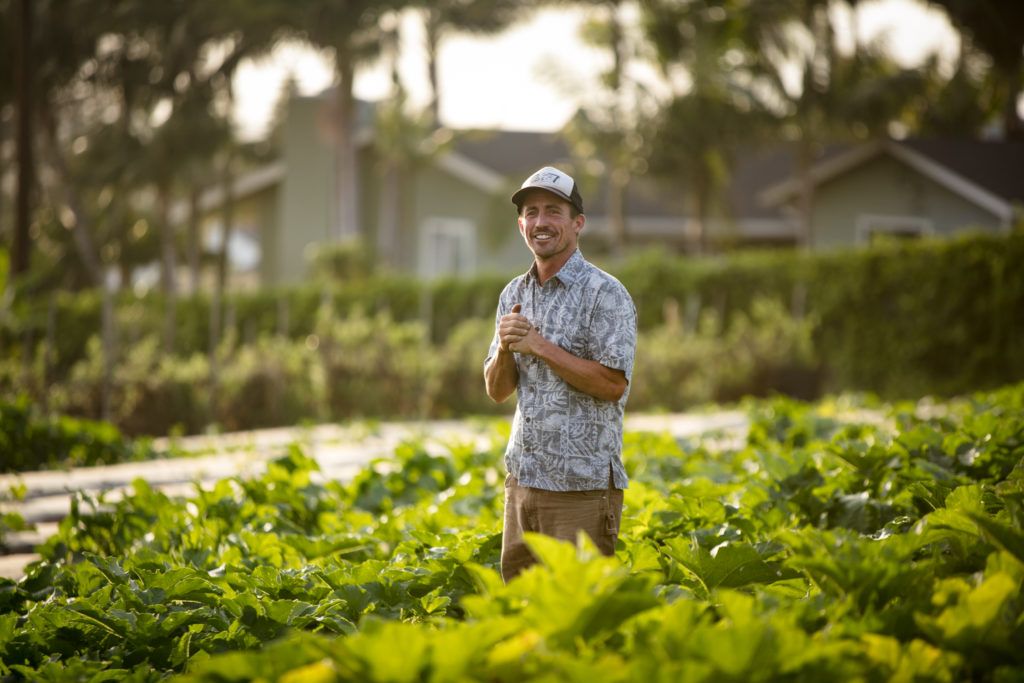 Farmer Luke & his family hosted a recent 2FTAM dinner at their beautiful Cyclops Farms in Oceanside CA. Guests learned about the organic farming process and even picked out items for their evening meal. Cyclops plants a large variety of vegetables, strawberries, flowers and herbs, which are sold at farmers markets, and at their on-site farm stand. They also provides organic produce to chefs of local restaurants.
LEARN MORE ABOUT CYCLOPS FARMS
---
EARTHTRINE FARM


Robert "BD" Dautch of Earthtrine Farms began his career as an organic farmer in 1974 and today grows over 100 different crops throughout the year. BD is truly in touch with the land and soil and is a master of tuning his farming with the seasons…using full organic farming practices. Earthtrine Farm is situated on 13 scenic acres out in Ojai. He also has 5 more acres in Carpinteria. BD is a familiar face at farmer's markets and will always have something unique on his table.
LEARN MORE ABOUT EARTHTRINE FARM
---
TWO ROOTS FARM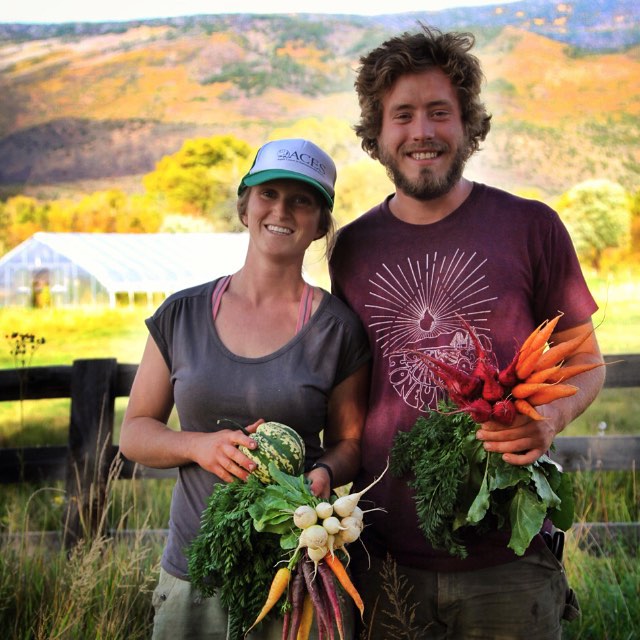 Two Roots Farm is the result of a shared farming passion between Harper Kaufman and Christian La Bar. They are first generation farmers rooted in Colorado's beautiful Roaring Fork Valley. They grow on leased land on the Spradley Farms property. Together, with Mike and Allison Spayd, they partner to produce diverse market vegetables, pasture raised eggs, pasture raised broiler chickens, and honey. 2016 was their first year in production as Two Roots Farm and have been overwhelmed with community support since.
LEARN MORE ABOUT TWO ROOTS FARM
---