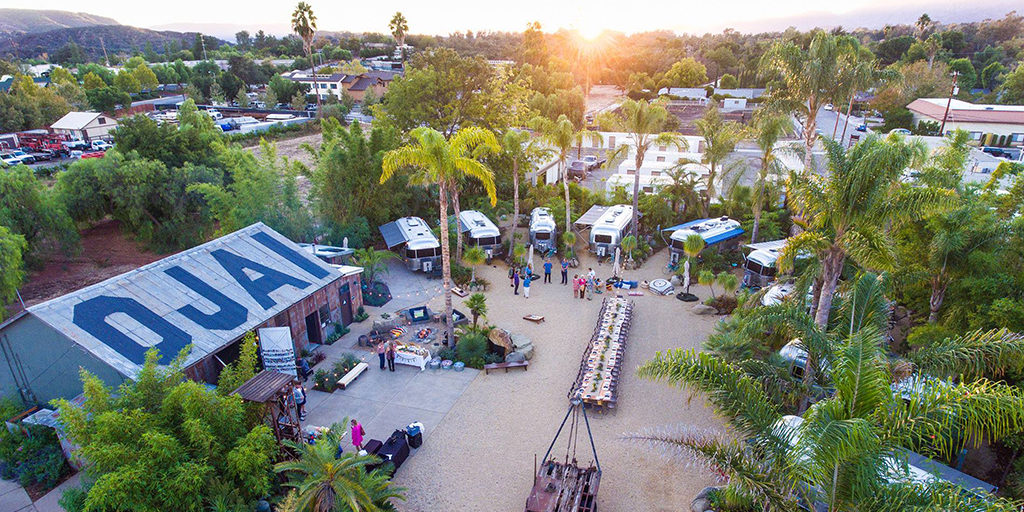 Event Overview
Combining visionary ideas and unforgettable cuisine, Two Farmtables And A Microphone invites our guests to feed all five senses while creating food for thought. As our guest, you'll take part in incredible, transparently-sourced, farm fresh meals accompanied by a diverse array of exciting guest speakers from the frontiers of entertainment, technology, and culture. It's an evening that will stimulate both your palate and mind, leaving you with a full belly and a renewed hunger for the possibilities that surround us.

SATURDAY
June 17, 2017
6:00pm - 9:30pm

Caravan Outpost
317 Bryant St
Ojai, CA 93023

Caravan Outpost is a garden filled with Airstreams, in Ojai, CA. One of the most unique places to stay in all of America.

OUR CHEF
Cuisine by Lan Thai, aka Drunken Master Chef of Enclave

SPEAKER
Jonathan & Denise Nafarrete - Co-Founder, Editor-In-Chief & Marketing Advisor / Strategist – VRScout

"HUMAN CONNECTION IN A VIRTUAL FUTURE"
Virtual reality (VR) is not just about gaming and entertainment. This immersive technology has the potential to change our lives through new approaches to education, communication, and the rewiring of our brains to improve physical and mental states.
** Unique VR demonstrations for you to participate in

SCHEDULE:
6:00pm - Check-in and Appetizers/Pairings
8:12pm - Soak in the Sunset
8:15pm - Special Speaker - Jonathan & Denise Nafarrete
9:30pm - End

TICKETS:
$50.00: Dinner - Food w/ Wine & Drink pairings
$25.00: Speaker Only and Tickets for Wine / Drinks

Wine & Spirits provided by Tank Winery and Malfy Gin

AIRSTREAM CAMPING EXPERIENCE:
Spend Saturday Night in one of the luxury Airstreams at Caravan Outpost.
Reserve your trailer - CLICK HERE

MENU: TBA.
Please make note when checking out if you'd like gluten-free and/or vegetarian.

PARKING:
Street parking available.

ADDITIONAL NOTES:
This is outdoors! Wear proper shoes and warm jackets as it can get chilly.

SALES ARE FINAL:
All tickets are final. There are no refunds. In the event of a cancellation, refunds will be made.

ALL AGES WELCOME:
All ages event, but you must be at least 21 years old to drink alcohol. Please have your ID ready as we will be checking name and age.

PLEASE BE CLASSY AND DRINK RESPONSIBLY!

Tickets must be purchased in advance and space is limited.
All tickets are WILL-CALL.

Event Details
June 17, 2017
5:30pm
$25.00
Caravan Outpost, 317 Bryant St, Ojai, CA 93023